Feng shui Products
Showing 1–12 of 54 results
Sun in Golden metal can reduce the Vaastu dosha of your home or office. It can bring about changes in your status for the better. Sun in Golden Finish can also help in making the home environment peaceful and quiet. This Hanging Golden Sun Faces can be hanged in the Living room, on the Main Door of the house or even in the Temple.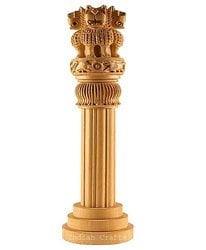 Ashok Stambh is originally situated at pilgrimage places and Buddhist monasteries, as part of Ashoka Dhamma. It is a sign of pride and victory. Ashok Stambh symbolizes power and bravery in the workplace. In Vastu, Ashok Stambh ensures extensive growth opens the way for Government support.
Wealth cow or Wish-fulfilling Cow (Ichhapurti Cow) is used to fulfil all your wishes and attract good fortune. Wish fulfillment Cow brings successful business revenue, luck in investment, prosperity, abundance, success, and wealth. One can place this Wealth Cow anywhere on the office desk. Students can also keep the statue of Wealth Cow to get better educational results.
Crystal tortoise helps in eradicating negative energy around us. So, when we keep Crystal Tortoise in our office or home or with us, the place is purified by its power, which neutralizes all negative chi or energies. If you lack concentration in your studies, you can place Crystal Tortoise near your study table.
Vastu Dosh Brass Tortoise is used for correcting Vastu faults and repressing negative energy present in the house or office. It provides good luck, wealth, and stability. It also helps to ease the body and promote faster recovery.
Kamdhenu is the sacred wish-cow that fulfills all your wishes. If you feel that your business expenses are more than your income, place it in the south-west corner of your room on any Monday. It also gives spiritual and materialistic success. It brings peace and prosperity to your home.
Evil Eye Hanging is meant to protect the user from the eyes of the envious. Eye-catching Evil Eye Hanging combats 'The Evil Eye' Curse. Keeping this product at home helps to ward off negativity and bring good fortune. Evil Eye Hanging decorated with eyespots defends offices, business premises, or factories against curses.
Full Moon Poster for Girl Marriage brings new opportunities in life, made for those who are in search of a life partner. If you are seriously looking for a man or woman of your dreams to marry then select this specific poster for being displayed in your home. The area of Romance flies into the Southwest, so, placing it on the southwest increases the chances of all single women to get married soon. Feng Shui remedy is an ancient art and science that has been used for over five thousand years, so this poster can surely help you, too.
Kuber bestows us with three main benefits. Firstly gives us material success, secondly the unexpected financial gains through lotteries, etc., and thirdly continuous flow of cash. God Kubera, is also named Bhutesha, Dhanpati, Vaisravana, and Kubera.
Medicine Buddha is also called the Healing Buddha. Medicine Buddha helps to heal all the sickness. Placing it in the center of your home helps in the Spiritual as well as Personal Growth. Placing it in the northeast Bagua area can also help in giving huge benefits to the user. Mostly the illness originates in our mind also so-called three main poisons (attachment, hate, and ignorance), it is better to keep the Medicine Buddha statue as a guard.
Showing 1–12 of 54 results